Drinking Fountain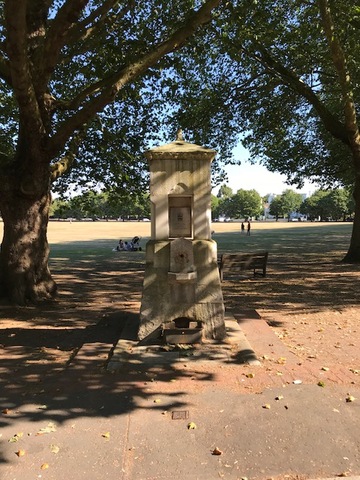 To celebrate the Silver Jubilee of HM Queen Elizabeth II, the stone drinking fountain and dog trough (Grade II) at the south-eastern corner of The Green was restored in 1977 by private subscription. Since then this handsome landmark on the Green dating from 1870 has become badly damaged, cracked, stained with growing moss.
The red brick surround is out of keeping with the stonework, and the grass around the fountain under the trees is badly worn and turns to mud in bad weather. Limited historical information is available on the Fountain but the data on record confirms it was built in 1870 as a stone fountain and dog trough and cost £40.
FoRG would like to restore the fountain to its handsome former self and renew and extend the surround with more suitable York stone paving. We have applied to the Civic Pride Fund for the restoration of the Fountain with matched funding by FoRG and are pursuing other sources of funds for the project – including a grant from The Drinking Fountain Association and Heritage of London Trust. It would be very fitting if the project could be completed by 2020 – the 150th anniversary of its erection.
We are also keen to do our bit to reduce plastic waste and if feasible, we would like to restore the Fountain as a working drinking fountain. We are working with the Council on sourcing a local supply of drinking water to the Fountain and ascertaining the costs of new piping etc.